**I received coupons and product from the company to facilitate the review and all opinions are my own**
I know most everyone has heard of the Gorton's Seafood Company but did you know they have been around for 160 years? I know when I am in a pinch for time and my kids are busy I reach in my freezer and I am likely to have a handy bag of these "wicked good"fish products available. How could the look of that product not make you want some premium fish product I know I could go for a good ol' "fish taco" with some pico de gallo and homemade tartar:)
Like I said I did receive product coupons and I purchased these bags of fish for a get together and made fish tacos and fish fillet salads served with all the taco toppings it was a real hit with the kids as well as the adults.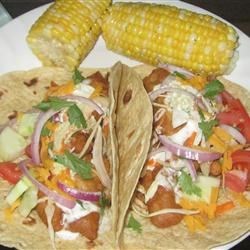 This is the way my kids eat their fish patties on a tortilla with everything.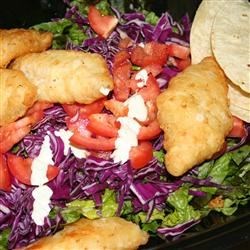 This is the way I eat it with a salad a light ranch yogurt dressing.
I really like the product and I know I am feeding my kids something that I grew up enjoying as a child and still to this day enjoy:)
The fun part of the post is coming up ..ooh yeah.. Make sure you visit their website for so many things from
recipes
to
coupons
and so many other products they
offer
. Make sure you enter
The Wicked Good Seafood Sweepstakes
. Find them on
Facebook
and
Twitter
. and
Enter to win a prize pack to include: 1 US winner will receive 3-$2 off coupons,1 Gorton's ship wheel branded keychain an assortment or recipe and postcards.
a Rafflecopter giveaway