**I had the opportunity via Bloggerdise to review a company and its product. Receiving the product made no impact on my review and my blog will not be compensated outside of the product for this review.**
The LoveJoy products are all unique and handcrafted, leathergoods, wallets,purses, belts and clutches are just to name a few available items. For my review my contact was very helpful and easy to work with, she had many ideas in mind but I wanted to be as easy as possible especially when I am reviewing for a small business. I love a company that says "give me some ideas of what you like" and my answer will always be "show my readers what you are capable of."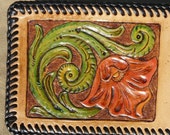 This is an example of a mens
wallet
that she had made for her Father.
I received 2 pouches from
LoveJoy Leather
both were very well made, the leather was soft but firm, smooth to the touch and the pictures were "Amazing!!" The detail was very well portrayed in the pictures from the colors of the butterfly to the exclusive detail of the
tribal fox
with the pawprint on the front. Both have a snap closure and the inside has enough space to store whatever you need to carry.
My two stunning pouches
Just look at the detail!! The graphics are perfect and makes this a great gift idea for that hard to shop for person.
LoveJoy can be found on
Facebook
,
Etsy
and
Twitter
. Got an idea that you need to turn into a special memory or keepsake call on LoveJoy.
Im going to host a giveaway!! One LUCKY winner will receive either the Butterfly or the Tribal fox both amazing both exceptional..but I want to share the <3 nbsp="" p="">
a Rafflecopter giveaway
(per
etsy
)
We make handmade, handtooled and/or pyrography engraved leather wallets, belts, purses, clutches, keepsake and wedding albums, and more. We do wildlife, dogs and pets including horses, cattle and just about any creature you can think of. We do Celtic designs as well as antique and vintage vehicles, Sailor Jerry, Western Sheridan style designs and more. I am an artist so I can put a custom design on a wallet, purse, clutch or belt for you. Please understand that these leather creations are not made by a machine and a custom order takes some time to make.
I also do Children's book illustration and children's portraits and pet portraits.
We do ship internationally!
3>