Yes you read it right :) Another Crayola Promotion, I know im excited!! The last promotion was an absolute HIT in my home, so much coloring so many pages so much artwork, yeah for Crayola. This time around this is a Back To School Promo(Thank you@
MyBlogSpark!
)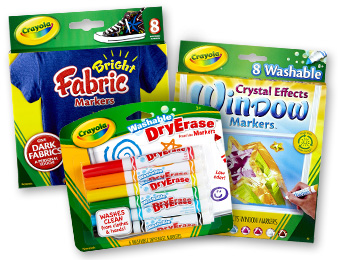 ***********GIVEAWAY!!**********ENDS Sept 12, 2012******
##The winner will have 24 hours to respond otherwise a new winner will be chosen##
you do have to:
MOST IMPORTANT Follow my blog:) click to the side :)
a Rafflecopter giveaway
Your Crayola Back-to-School gift pack will contain:
Crayola Bright Fabric Markers
Crystal Effects Window Markers
Crayola Window Mega Markers
Wild Notes Index Cards
Wild Notes Sticky Notes
Wild Notes 1 Subject Notebook
Dual-Sided Dry-Erase Board
The Crayola Bright Fabric markers are so cool, they are made so that our kids can create their own designs whether it be on backpacks, shirts or pants or any fabric item you can think of(of course with parents permission :))Whether it be dark fabrics or light the cool design will surely get noticed.
I have used these in the past and i find these are easy for children of many ages to use with supervision. The colors dont bleed and they stay nice and bright thru many washings.
Crystal Effects Window Marker, now these are really fun, these are super cool when you want to let everyone know about a special time in someones life :). These markers are so bright and colorful and you can use your imagination to share great on car windows, house windows any window you want to spruce up
.
Window Mega Markers
These are Washable, safe for windows as well as your clothing. Comes in 4 bright , bold colors, the tip is larger so its easier to use on windows and easier for little ones to control and does contain more ink than previously tested window markers.
Wild Notes Index Cards, Sticky notes and 1 subject notebook
This by far is so cool, even as a parent i really enjoyed trying these out. One pen creates a world of color using the special paper or cards..The pages are the color changers, not the pen..soo cool. My kids used them for little notes to me or each other, they used for friends notes, just for fun..something to doodle on and be creative with. It states a "seriously fun way to write" and it really is, its not the same old paper and pen.. when the kids used them they made the notes individual. Love these:)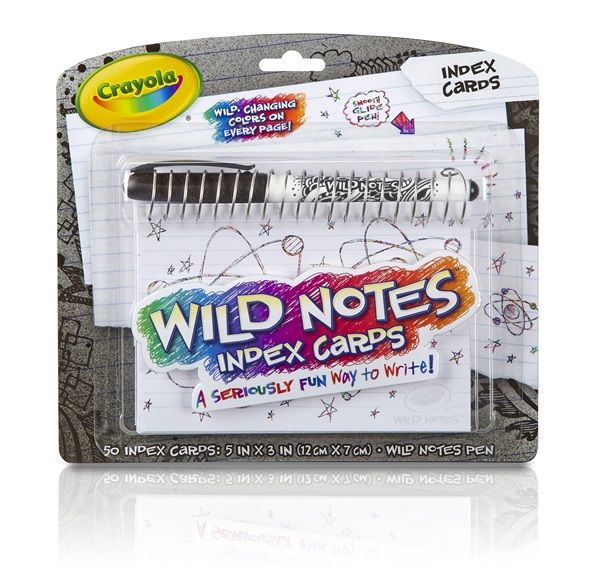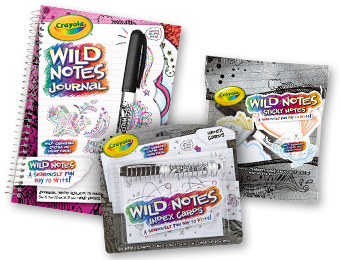 Dual sided Dry Erase board
One side is white, the other is black, so it just depends on the mood it can be changed from day to day, perfect for dorm rooms. I used this one in my teens room and he is a note keeper, he writes down whatever pops into his mind, or what he thinks i might forget. Great Idea and Im not sure I could limit the age for the product, as long as child is writing they may have some interest in a board for individuality. Super cute, great concept.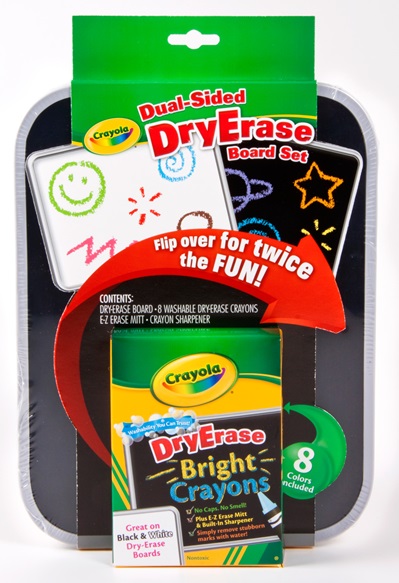 Crayola products are changing all the time and like all products you do need to supervise the use of all products. These are my opinions and MY OPINIONS only. I received this gift box and am offering one in return for a reader, as a reader YOU DO have to follow what Im asking to be considered for the drawing.
"Disclosure: The information, products and additional Crayola Back-to-School gift pack was provided by Crayola® through MyBlogSpark."